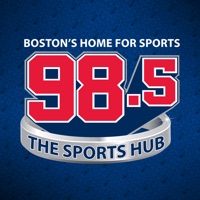 98.5 The Sports Hub
By

Beasley Broadcast Group
Category:

Music

Release Date:

2017-11-29

Current Version:

4.0.2

Adult Rating: 17+
Developer: Beasley Broadcast Group
Compatibility:

Android
98.5 The Sports Hub App
98.5 The Sports Hub, flagship station of the Bruins, Patriots, Celtics, & Revolution, has a new app! Listen to all of your favorite sports programs wherever you are. With the new 98.5 The Sports Hub app, you can connect with us like never before. Just download and open your 98.5 The Sports Hub app to listen to your favorite shows like Toucher & Rich, Zolak & Bertrand, Felger & Mazz, and The Adam Jones Show. You decide when you want to listen, and when you want to browse by turning the live stream on or off within the app. Get what you want off the radio with 98.5 The Sports Hub app.
98.5 The Sports Hub app reviews
A fancy sports app for a fancy sports station 5/5

By Brendan C429

Listen to Felger and Mazz at your own risk. Great app!

Simple and effective 5/5

By theenvy

With all the crap on the App Store nowadays I appreciate apps that just simply work. This one goes beyond that with a lovely interface and no annoying ads along with the added features like weather and such. 5 stars because screw the other cruddy apps plaguing the App Store.

Garbage 1/5

By Lose 40 by 40

Why have an app that doesn't work. I'm giving it one star because I can't give it zero.

Crashes way too much 1/5

By Bbbbbbaaaaafjktrdvjifddv

Crashes way too much I'm going back to tunein radio

Radio Gold 5/5

By Djdjdjdjdjdcubcr

Get Mason Sousa on the radio every chance possible

Horrible battery usage!!!! 3/5

By Skatones737

The app works great. Installed it yesterday with no problems. However, I've noticed my battery life is awful since then. Turns out this app absolutely destroys battery life and it was only used for an hour each day. Do not download until battery issues are solved!!!

Great app 5/5

By *s.g.*

Is it possible to get a sleep timer added in on a future update? Thank you.

About time. No notifications? 4/5

By Swiss_Chicken

Let me start by saying it's about time. I hope that you guys strive to make your app the first app I get notifications from when it comes to Boston Sports. Love the auto start stream. That's phenomenal. Loved that you added the option to shut off auto-start as well. Would love quick access to articles, rosters, and standing\schedules in future. All in all great start here 98.5!!!

What up Zo? 5/5

By nepats5

This app is great, no more commercials, all the Boston sports twitter updates to listen to since I live away from New England now.

. 5/5

By Bole From Manchester

#Felger wears a wig

Fire everyone except Scott Zolak 5/5

By Anthony Elias

Please and thanks

What it d0 5/5

By Rizz2222

Fred's not on Twitter in case he hasn't said it for the 1000th time.

Finally! 5/5

By Joeydon21

I am super happy this finally came out. Now I can remove apps like radio.com from my phone (terrible app). Very easy to use. Love that every show has their OWN section! Thank you 98.5! Waldick wea you at?! SUP ZO! Carmelo IN! Mazz OUT! Prince of darkness

Steak and eggs 5/5

By Stuntman59

Steak and eggs sup zo walldick where you atttttt

Big Bang Clock 5/5

By Donnell Skywalker Jr.

Walldick where you at?!