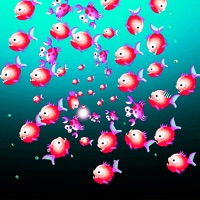 Oceanar.io ,
By

Hsey Liung
Category:

Catalogs

Release Date:

2016-11-21

Current Version:

1.1

Adult Rating: 12+
Developer:

Hsey Liung

Compatibility:

Android
Oceanar.io , App
Can you become the biggest fish? You are a very aggressive fish, wandering around the ocean and eating smaller fishes to grow. Likewise, larger fishes out there seeking to eat you. Just keep getting bigger and bigger and survive at long as you can folks!
Oceanar.io , app reviews
No, just no 1/5

By CatNjnja

Bad game, doesn't work at all that's all I have to say

Can't see Schmidt 1/5

By Cc_e

I got the game to check it out. Wast of my time, cant see anything so just don't. While I wouldn't criticize the creator because it's hard to create a game that hundreds of people would play at once. I don't like the game or recommend it.

It is as bad as everyone says it is 1/5

By W1234566554354

This is not even a game and should be removed from the AppStore.

NOOOOOO 1/5

By SSG Panza

You can't see anything do not get

Broken 1/5

By Morfie23

Pc fun, this... bad

Terrible, do not get it 1/5

By Gummy_Bubbles_

This game is terrible and doesn't even make since, also it doesn't give you a tutorial

No care 1/5

By NIENEm819372

I hate games like this, there is always a creator that makes such a broke game, so I suggest to not download it or else your just making some duchbag feel happy for his broke self.

Controls? 1/5

By Ed359999

I was playing and I was unable to move my fish. I also could not see other fish and my own went in one direction.

Fix it please!!!! 1/5

By Alenka4x4

I cant see any fish. I cant see even my own fish. After several seconds online it says Game over! And that's all.

Can't see anything 3/5

By NatesMom45

Love the game on pc, would love this if i could see. Any suggestions to fix it ?