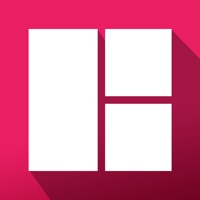 Pic Easy Collage - PicTure Frames, Layout Maker
By

Gunvanta Patel
Category:

Catalogs

Release Date:

2016-10-06

Current Version:

1.7

Adult Rating: 4+
Developer: Gunvanta Patel
Compatibility:

Android
Pic Easy Collage - PicTure Frames, Layout Maker App
Word's Easiest + One Screen + In-app free collage maker & Editor!! *** SUPER EASY & SUPER FAST *** NO NEED TO CROP YOUR PHOTOS *** EVERYTHING IS AUTOMATICALLY DONE All you have to do is just selecting images you want to make them into one big picture collage. Easy Collage will take care of everything for you. HOW TO USE 1. Select images from your Photo Library 2. Choose one of the possible generated Photo Quilt layouts 3. Shuffle the order of images if you aren't satisfied 4. Save the final collage to your Photo Library or share it using e-mail, message, Twitter, Facebook or Instagram!!! Mix, match, pair your favorites together and create unique photo compilation instantly!
Pic Easy Collage - PicTure Frames, Layout Maker app reviews
Swags 5/5

By Mdkslalsnfbyb

Cool and fun

Hi 5/5

By Hibudyboy

ONE OF THE BEST

App review 4/5

By OCGboy

Easy app.

Don't bother 1/5

By Tchizzang

This app was a complete waste of energy. You have to pay for layouts, and an ad pops up after every step you take to try and make a collage. I deleted it after 2 minutes.

It was helpful 4/5

By Aesrhilney

It's cool

Easy to use! 5/5

By Ap473719

Love it

Review rating 5/5

By Gymnastics is the bomb.com

It is amazing 😉

Snnhshs 5/5

By Kdhnsbnmaop

Kskks

Easy collage 5/5

By Jus3brook

Easy to do!

Too many ads! 1/5

By cpg2424

Can't do anything without having to watch an ad. Awful, don't waste your time like I did!

Worth it 5/5

By Cretin,,y

Great app! Easy to use.

Love it! 5/5

By Lia101201

I love this app!

Nice!! 5/5

By Bsmike

Love it!

Meh 4/5

By Dpqir

It's good but ads make it impossible

Easy!!! 5/5

By Moxie Girl77

App is so easy to use. Love It!!

Great! 5/5

By Guest1997

I love this app! Will recommend to anyone!

Love it 5/5

By Kerrypalm

Fun to play around with

Ads make it unusable. 1/5

By あさめしまえ

Can't even decide if I want to buy it because the ads pop up after you add a photo. There's no way to see how well the app really works.