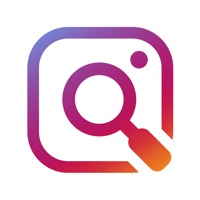 Profile Analysis Tool for Instagram - InstaViewer
By

Netarts LLC
Profile Analysis Tool for Instagram - InstaViewer App
The best and fastest profile analysis tool for Instagram! InstaViewer is an Instagram profile analysis tool for your followers! InstaViewer calculates all your Instagram activity and get data for each users who has interacted with your profile mostly. This app displays the list of users who likes you most, based on interactions which other people have had with your Instagram account, such as likes, comments, photos tagged you, following and messaging. You can see up to most recent 200 list for your Instagram profile. Disclaimer: InstaViewer is not associated with Instagram Inc in any way. This is an unofficial product. This app calculates the interaction to your profile. Some features mentioned above require In-App Purchases.
Profile Analysis Tool for Instagram - InstaViewer app reviews
Awful 1/5

By Rooooooriiiiiiio

Why does it ask for my authorization for tinder? And it's just seems fishy and sketchy and untrustworthy

Terrible 1/5

By Hankboy09

1. I don't even know how the app does what it does (analyze interactions from your followers) 2. You can only see the top 5 people interacting with you without buying it, but you can only see that 5 times without paying for the app. Bogus

Scam 1/5

By Grrrrrrrr I'm angry 😡😤

I read online that this was a scam. Don't give your information.

✨ 4/5

By vivianna76

Love this app !