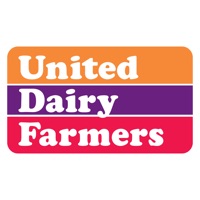 United Dairy Farmers
By

GasBuddy Retail Solutions
Category:

Navigation

Release Date:

2016-11-28

Current Version:

4.0.21964

Adult Rating: 17+
Developer: GasBuddy Retail Solutions
Compatibility:

Android
United Dairy Farmers App
Download the new app from United Dairy Farmers to find gas prices whenever you need to fill up. It's easy to pull up your card, keep track of all your gas savings and redeem your points while you're in the store. The UDF app also helps you find the closest store, hours and directions or remember your favorite locations. Plus, play fun games to win points toward prizes and coupons. There's No Place Like UDF. FEATURES - Find locations and store favorites - Get real-time gas prices - Scan your digital U-Drive card to earn points - Track U-Drive savings - Get deals and coupons - Search employment opportunities - Provide store feedback - Play games for points and prizes
United Dairy Farmers app reviews
💩 app 1/5

By Snlyttle

First I couldn't register my card because it kept saying there was an error, that the salutation was missing although it was not. Called customer support and they registered me instead and said to wait 20 minutes. However it's been 24 hours and I still cannot log into the app. Very poorly constructed app as you can see from other reviews. Waste of time

Couldn't even register my card 1/5

By Antiprotongfdhfdcvhffx

Tried to register my card, it kept saying that a salutation was required even though I input it. Tried again (and had to fill out ALL my information again), same problem. Who knows if any of the other functionality work, it's a mystery to me...

Good app 4/5

By Jap333

It's good but I have to hit login every time. I though there was supposed to be a new app for iPhone users?

App doesn't work 1/5

By Ruthrme

You can log in with your UDF account but features like your UDF card and gas savings don't work and haven't worked since the app was launched. The errors are non-descriptive so I can't tell if it is a poorly written app or something with my account.

Xxx tent 5/5

By Logmanjt

I love this gam cause I get free stuff. This game smells like farts though. I still happy thoughX

Add games 5/5

By Bob billy joe Alex bob lol

Pls add more games

Only did it for the free stuff 3/5

By Danhop123

Ya that about sums it up

U-Drive Wallet Support Please 3/5

By Meteor71

Please add Apple Wallet support for my U-Drive card. Your description in the App Store says that your app has it, but I can't find it.

Good start 3/5

By Goodieoneone

This app is a great step in the right direction! The functionality is good, but please please please add wallet support!